15th Street Veterinary Group
We are a walk-in clinic, so scheduling appointments is only necessary for surgical procedures, bathing, and boarding. This allows us the flexibility to tailor each visit to the patient's needs without worrying about going over an allotted amount of time. It does, however, mean that there could be a wait time depending on what is happening that day. We take emergencies during regular business hours, but refer to the Animal Emergency Center overnight and on weekends.

Our doors first opened at our current location in 1965 as Hohmann Veterinary Hospital, under the ownership of Dr. Donald Hohmann. Dr. Ed Wagner joined the practice as an associate in 1980, but later became a partner. A third veterinarian was added to the practice in 1987 when Dr. Mark Shackelford joined the group. We officially became 15th Street Veterinary Group in 1990 when Dr. Wagner and Dr. Shackelford became co-owners of the clinic. Dr. Hohmann remained on and continued to practice until his death in 1995. Dr. Erin Reed joined us in 1999 and became a co-owner with Dr. Shackelford, Dr. Wagner having sold his half of the partnership to her in 2015. Dr. Wagner continues to work as an associate veterinarian and Dr. Kara Herrington joined us in 2014.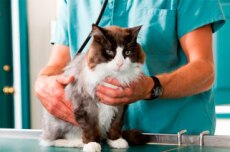 6231 E 15th Street

Tulsa

,

OK

74112

Phone: (918) 835-2336
Fax: (918) 835-2473
Mon-Fri: 8:00am - 6:00pm
Sat: 8:00am - 12:00pm
For after hours emergency care call (918) 665-0508